The crockpot is not widely used by the pet owner but for me, it is one of the best kitchen appliances. With the help of this appliance, I can cook a lot of delicious food at a low price for my pet. Those who know about this product know the importance of this item it is time-saving, cost-saving and meal can be cooked easily. Here is presenting a few homemade crockpot dog food recopies and few tips.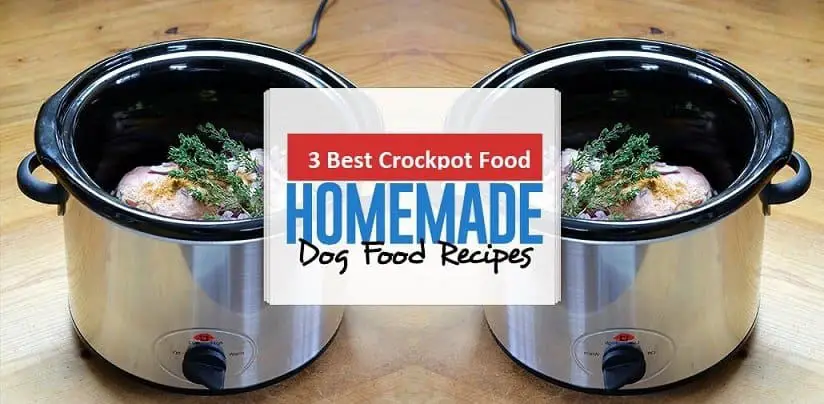 Why You Should Switch to Crockpot Dog Food?
If you have a busy schedule life and you don't have time to feed your dog properly. Then crockpot is the best solution and its big relief. With this product, all you have to do is hurl all the ingredients and cook for a few hours until it's done.  You can contact your veterinarian for some particular ingredients or some specific dog supplements to make a balanced diet. With the help of crockpot, you can prepare a meal at one time and store it in the fridge and you can feed your dog from time to time. It is time-saving, cost-saving and you don't have to prepare food every time.
3 Best Homemade Crockpot Dog Food Recipes
​1. Beef Bonanza
Ingredients Used:
2 and a half pounds of ground beef
1 and a half cup of brown rice
1 15-ounce can of already drained and rinsed kidney beans
1 and a half cup of chopped butternut squash
1 and a half cup of chopped carrots
Half a cup of frozen or canned peas
Description
Mix the ground beef with brown rice and pour it into the standard six-quart slow cooker. Then, add some veggies like carrots, the peas and add four cups of water into it as well. Once everything is well-mixed cover the crockpot and prepare the meal at low heat for about 6 hours at low flame. You can cook it at a high flame within 2,3 hours. And you can feed it within 10min.
2. The Meat Feast
Ingredients:
1.5 cups water
1 cup of brown rice
4 lbs. protein source (I used 1 lb. ground beef and 3 lbs. ground pork)
1/2 cup blueberries
1 large apple (cubed)
1 cup kale (chopped)
1 large sweet potato (cubed)
2 large carrots (cut into chunks)
Directions:
This is a very simple recipe to make. It takes about 10 to 20 minutes to dice the veggies and fruits, which is the only time-consuming task. When sliced and ready, put all the ingredients into the crockpot and mix the food from time to time as it cooks. You can cook this meal within hours on a high flame and it takes seven hours on a low setting. Then you can add meat in this slow cooker dog food recipe. Once the beef and pork are cooked then it is ready to serve your pooch. You can keep the rest meal in an airtight container in the refrigerator.
3. Doggie Stew
Ingredients:
3 pounds of boneless and skinless chicken thighs (this roughly equals 10 to 12 medium-sized thighs)
A quarter of a cup of cup chicken livers
2 peeled and sliced medium-sized carrots
1 cup of frozen green beans
2 medium-sized  sliced apples
1 cup of frozen peas
1 handful of chopped, fresh parsley
1 tablespoon of olive oil
Directions:
First, take chicken thighs and put it into the slow cooker then add chicken liver, carrots, beans, apples, and pour some water into it as required. Then cover the port and on low flame, it will take 8 hours and on high flame, it will take 2, 3 hours and you have to mix it frequently which depends on your slow cooker also.
Add peas, parsley, and olive oil 10-15 min before it gets done. After getting cooked let it be cooled then serve it to your pet and rest you can store it in the freeze.
Do remember, apple is good for dogs, apple seeds are harmful so it is better to remove the seeds from the apple. It applies to all the fruits and veggies. And you should also remove the bones from the meat to prevent your dog from choking.